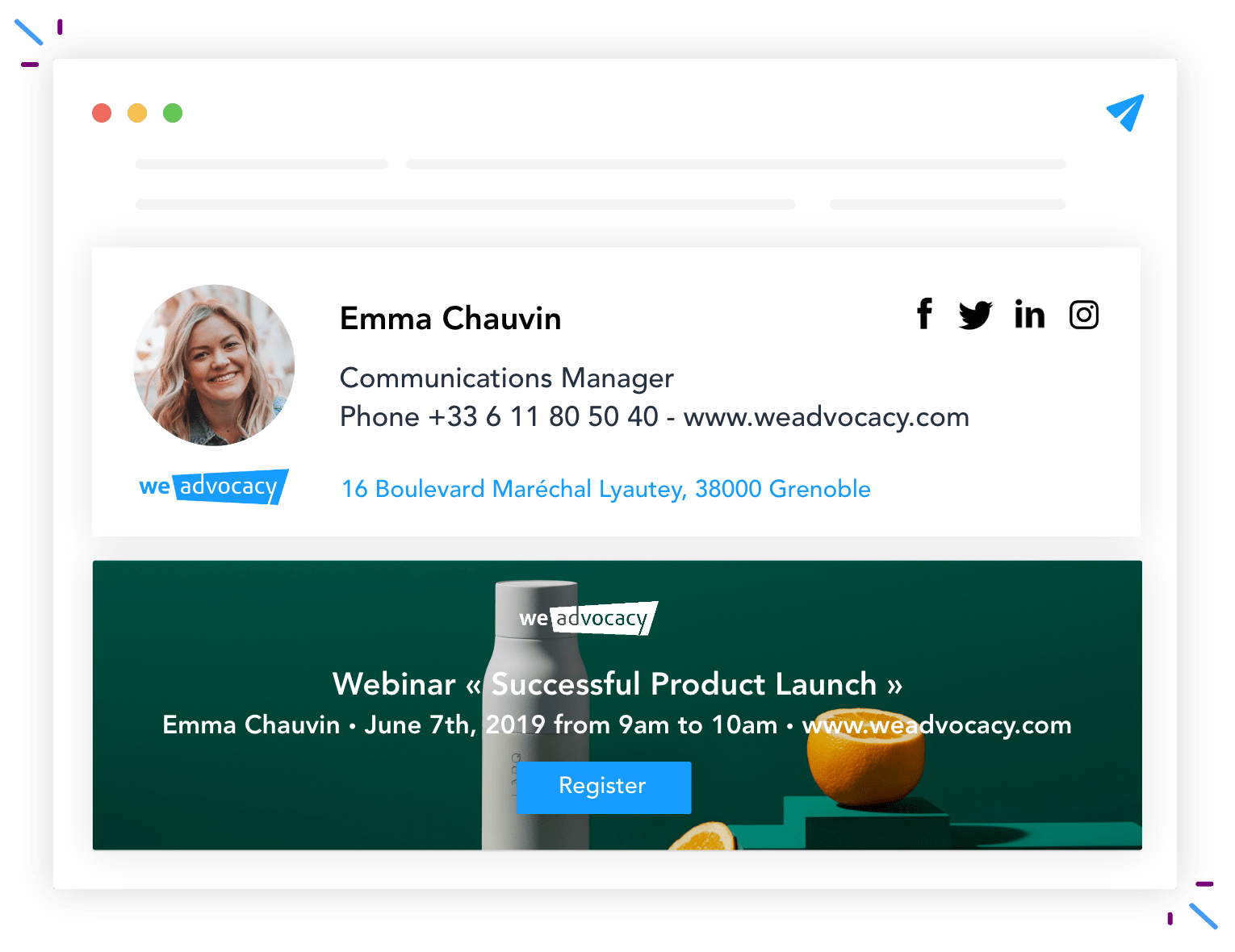 Reading time: 4 min
The email signature is much more than a simple formula to take leave of the recipient of a message. It can be worked to become a powerful communication tool at the service of the company. The secret: add a banner in his signature mail. Explanation.
Why put a signature banner mail?
Every day, there are dozens or even hundreds of emails that pass from the company to its prospects and customers. The e-mail remains the most used communication tool within the company, despite the multitude of possibilities offered by traditional tools such as telephone or mailing and the advent of new tools such as social networks.
Benefits in internal communication
Setting up a signature email banner has repercussions internally. Because within the company itself the employees exchange mainly by mail.
The mails are consulted daily by the collaborators. The mail banner becomes a practical tool for circulating internal information efficiently. The internal communication campaigns relayed by this bias benefit from high visibility. This corporate signature captures the attention of employees.
This is especially true when employees become communicators themselves, through employee advocacy. Employees use their own email signatures to pass messages to colleagues. Practical, the email banner is easy to configure for a message adapted according to the recipients of the mail.
Benefits in external communication
Inserting a banner in his mail signature is also advantageous in terms of external communication. The mall enjoys an excellent opening rate. The messages it conveys are read in their entirety, until the signature mail.
This zone offers an incomparable visibility area, which can be filled by an e-mail banner to promote its brand image. The eye is undoubtedly attracted by a visual under the body of text of the mall. Communication is therefore best to use this easy to implement feature to pass all types of messages, inexpensive and rich in spinoffs.
The idea is to create an attractive email banner, consistent with the visual identity of the brand, which is concise, powerful and motivational to make the recipient want to click on it for more information.
Some examples of use cases for your mail banners
The mail banner offers a multitude of possible messages. Internally, it can for example be useful for relaying a corporate event: seminar, commercial convention, webinar, trade show … In the manner of a Save the Date, it can refer to a page dedicated to the event listing all relevant information.
Embedding a banner in your email signature can highlight a new product or service. It is also a way to communicate on a specific news: business anniversary, new year, new address …
These are just a few examples. The signature mail banner is infinitely adjustable to all communications.
If the email is a tool used in the world of business, its potential is still rarely used in its entirety. A banner embedded in the mail signature is enough to multiply the scope of its communication.