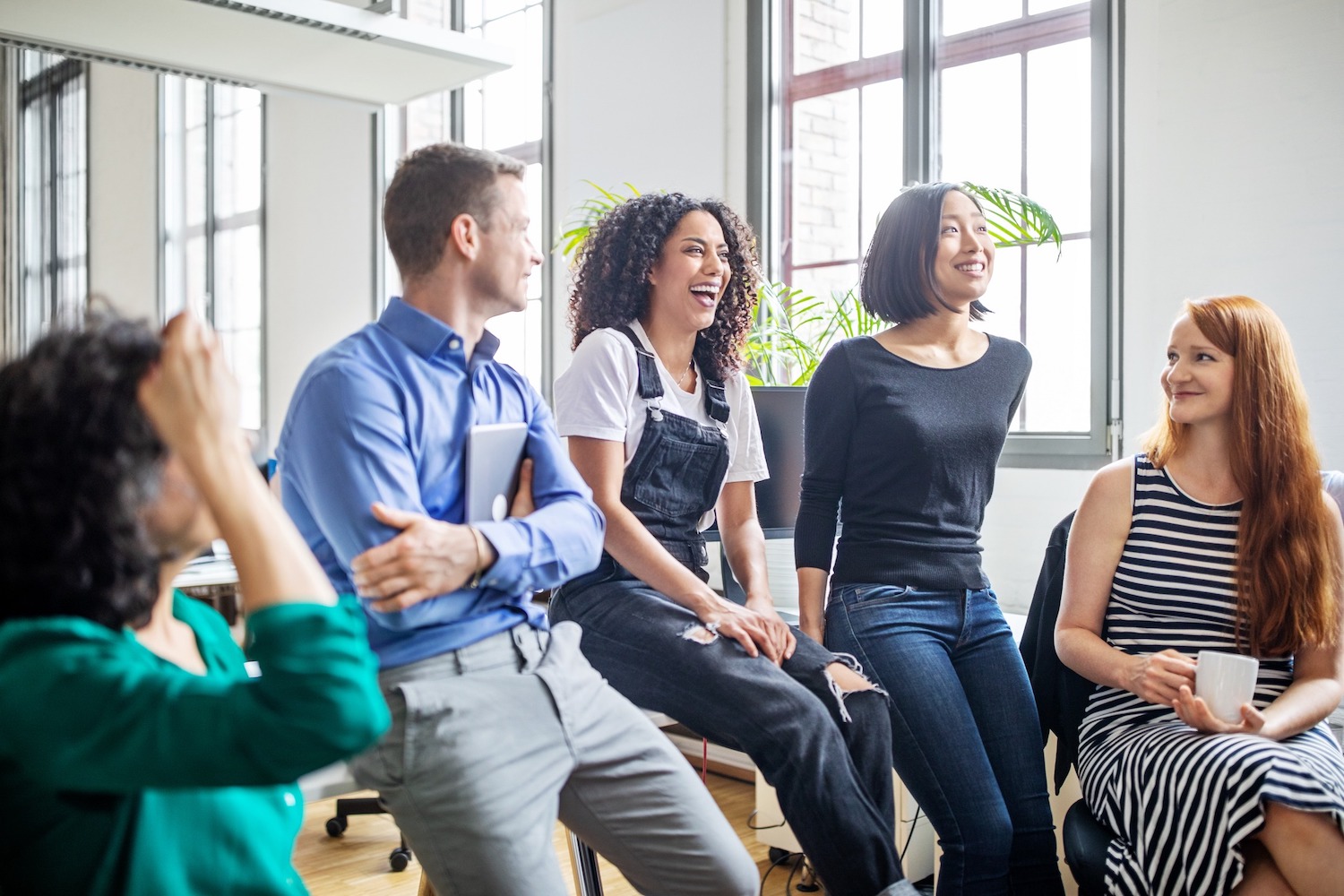 Discover the 5 resolutions to make in 2022 for perfect internal communication
Goodbye 2021, hello 2022!
we advocacy wishes you all the best for the new year, and hopes you will be happy, fulfilled and prosperous 🙂

How time flies! It's already time to close the book on 2021 and start writing the first page of 2022… and a new year means a fresh start, both personally and professionally. It's an opportunity to start off on the right foot and forget the worries of the past year, which have had a major impact on us all! Between the health crisis, the restrictive restrictions and the disrupted lifestyle, it is certain that these unforeseen events were not easy to manage for everyone.
So why not take advantage of this month of January to take control of your company's communication and please your whole team so that you can start 2022 in the best possible conditions? Okay, but how to do it?
Don't worry, we'll give you our tips 😉
we advocacy has thought of you and offers you its list of 5 special internal communication resolutions: enjoy your reading!
1. Use the right tools to communicate
As you will have understood, internal communication is a key factor of success for any company: it is essential because it enables a healthy climate to be established and close relationships to be built with its employees. But you need to use the right tools to communicate! Take the time to ask yourself the right questions: is my communication system practical and easy to use? Is the information well received by my employees? Are there other means of communication that are better suited to my industry? By making the right choices and opting for solutions that work for you, you can make your internal communication a great asset!
we advocacy offers you personalised communication according to your needs: PC notifications, mobile notifications or surveys – there's something for everyone!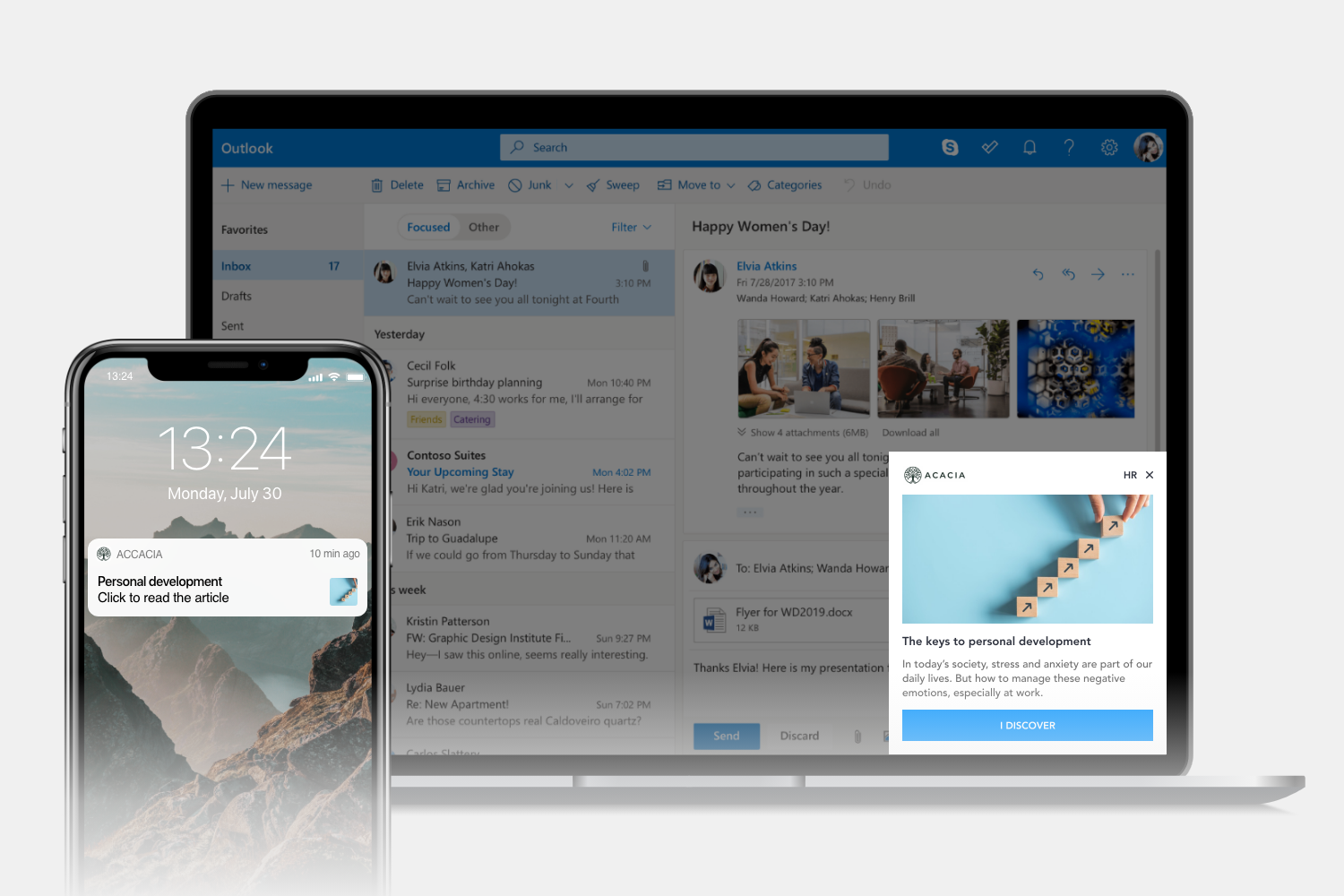 2. Encourage exchange
The principle of good communication is mutual exchange; disseminating information to your team members is good, but getting feedback from them is even better! The aim is to create an 'equal' relationship within your company, where everyone can express themselves and give their opinion. Don't forget that listening and recognition are essential elements of effective and fruitful communication!
With its internal communication solution, we advocacy emphasises interactivity. You can create employee satisfaction surveys and barometers to regularly take the temperature and implement improvements based on the results. This is an opportunity to identify your employees' expectations and to be at the heart of a continuous evolution process!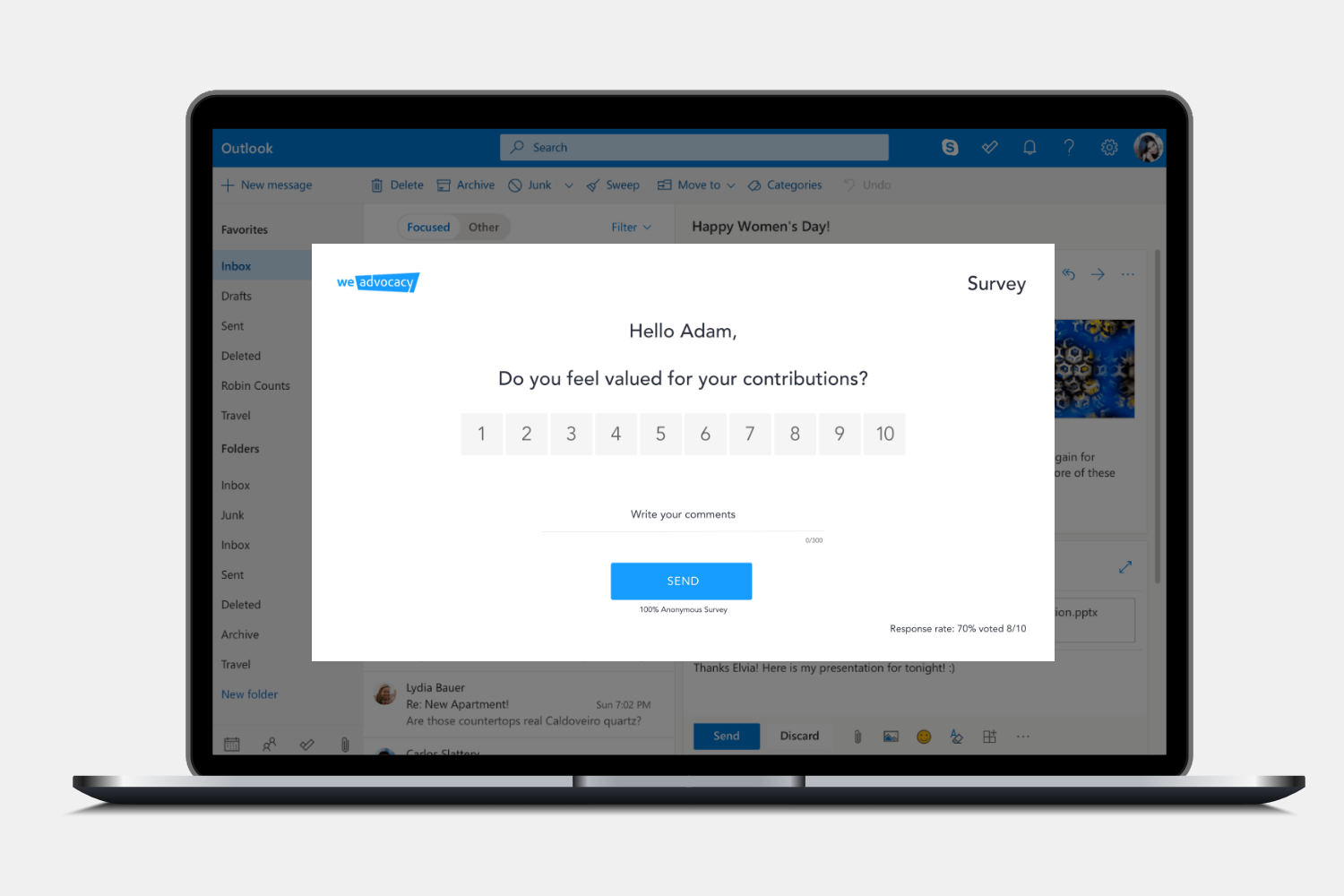 3. Disseminate information that will appeal to your employees
Communication is a major pillar to be taken into account, because it is useful and even necessary to disseminate information, an alert or an unexpected event. A machine breakdown, a fire on a production site, a scheduled maintenance operation? With the we advocacy notification system, you can keep your team informed in real time about your company's news!
But it's just as important to share less formal content that will delight your employees: a little message of encouragement at the beginning of the week, a congratulatory notification for an accomplished project, an invitation to a coffee break together… Beyond the professional aspect, take into account the human aspect. This is an opportunity to motivate your troops and put a smile on everyone's face: fulfilment and recognition go hand in hand!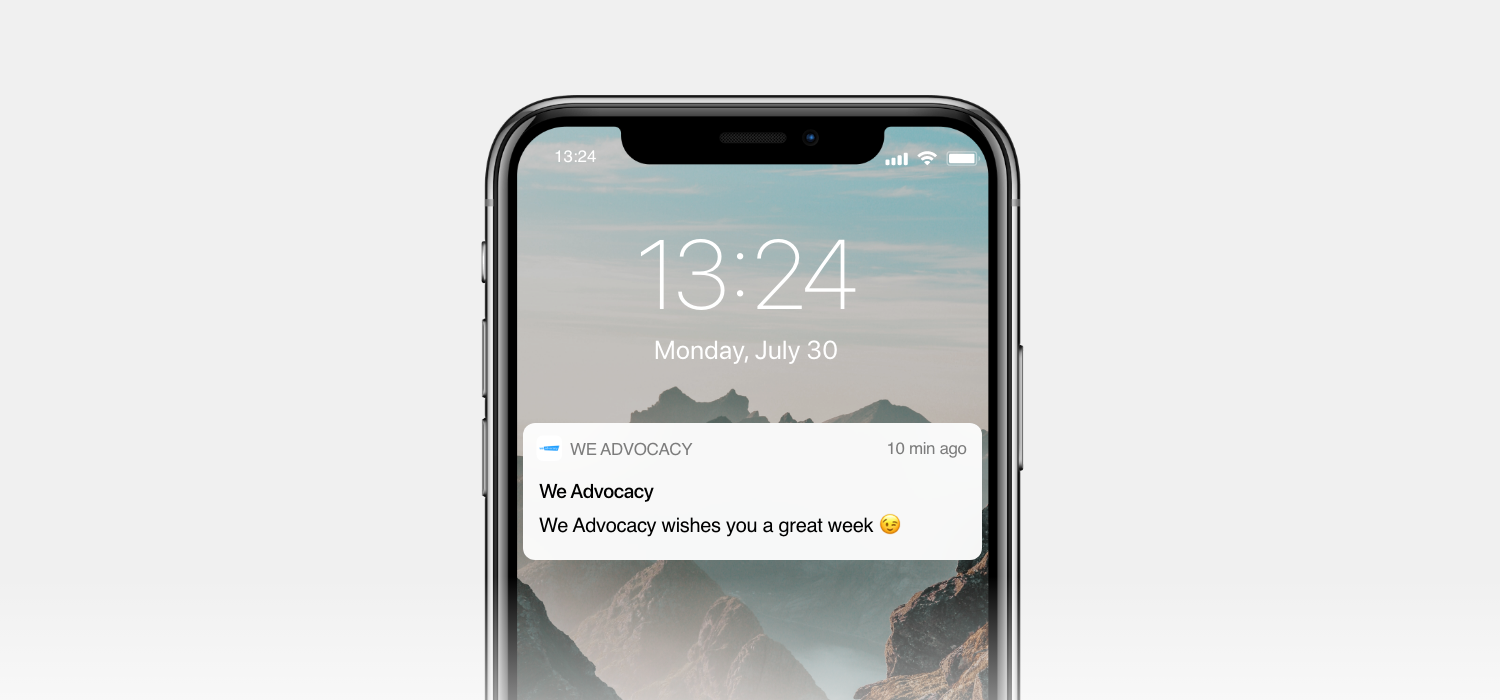 4. Personalise your communication to create a real identity
Within your company, it is necessary for your employees to feel integrated and recognised as driving forces in the company's dynamics. This feeling of belonging is initially achieved through a common visual identity: a distinctive sign by which one can directly recognise that a particular employee works for a particular company. What better way to do this than with a system of personalised email signatures and banners? we advocacy offers you the opportunity to choose your own colours, images, fonts and much more through signatures and banners, which are allocated to your team. You can also customise these elements for different times and events of the year: what a pleasure for your employees to receive an email from you with a banner sending them your best wishes for 2022!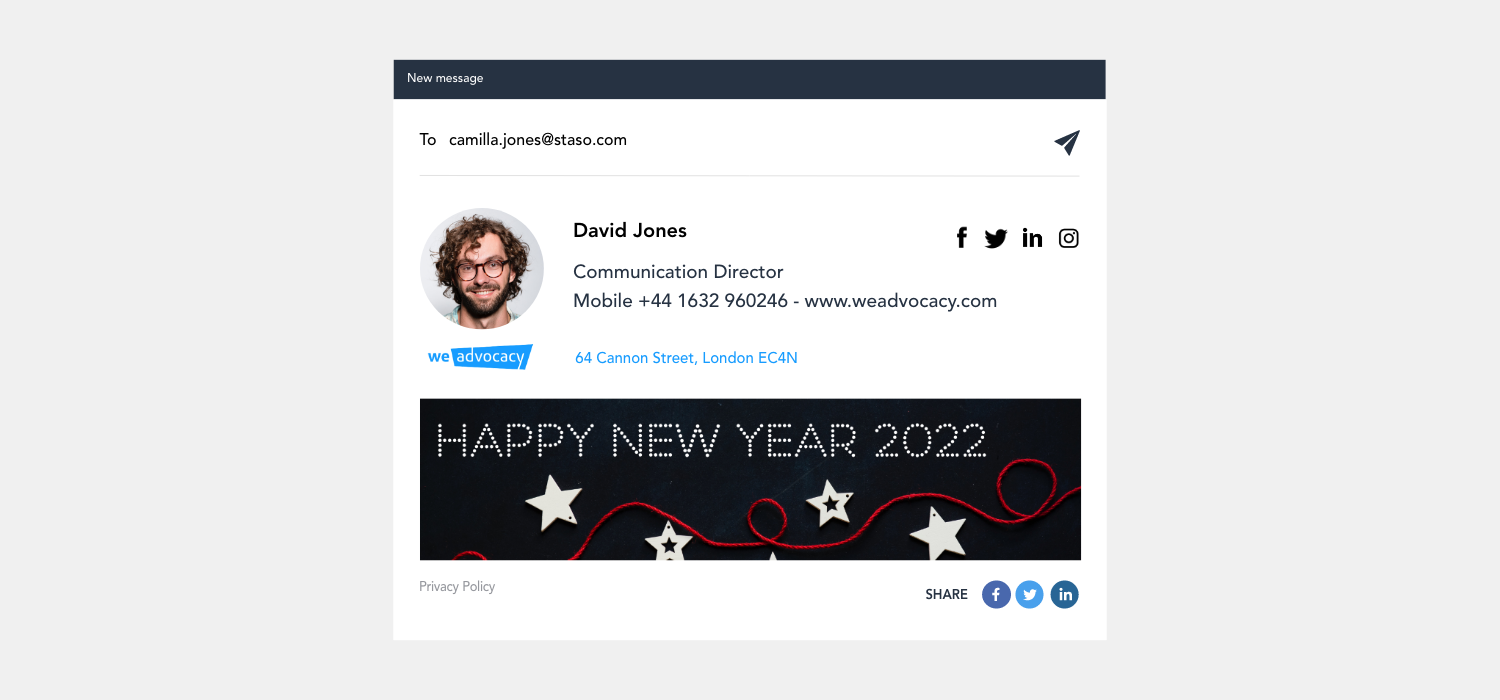 5. Opt for values of integration and recognition
Now that you know how to create the perfect content for foolproof internal communication, all that's left to do is to distribute the messages of your choice to your team… and ALL your team without exception! That's right, even your employees who are mobile, in the field, on the move or simply don't have a computer can benefit from the information sent. That's why we advocacy has chosen the option of web and mobile broadcasting for its notification system. This method of communication allows everyone to be aware of shared news at a glance on their phone, ensuring visibility, equality and inclusion!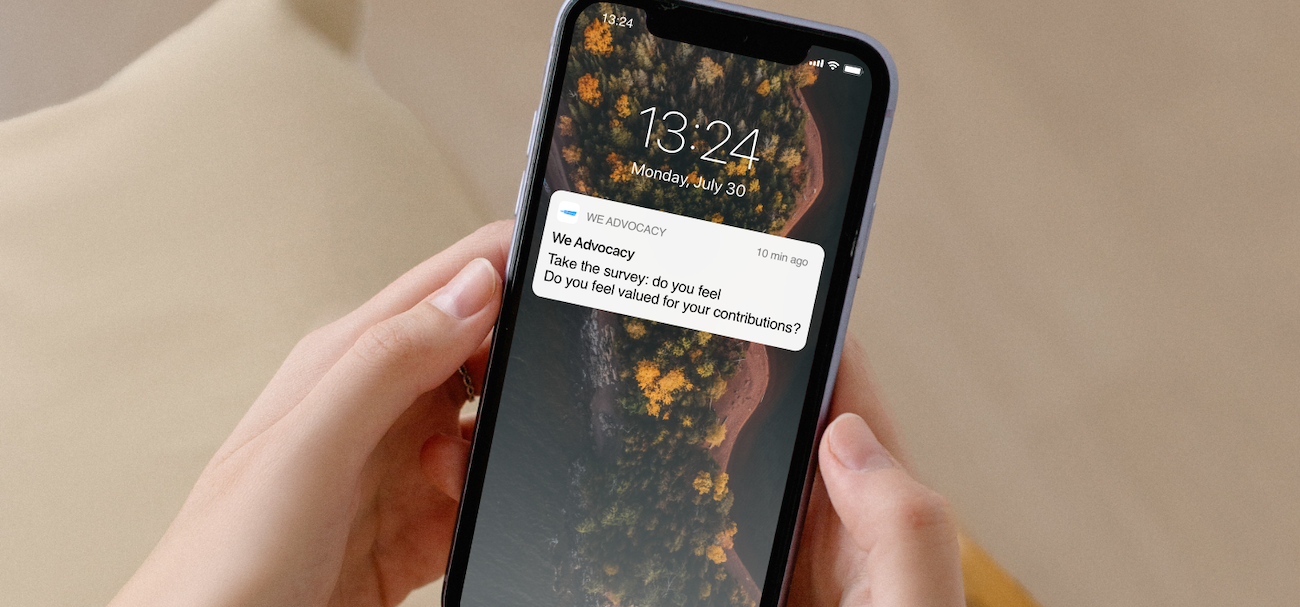 We hope you will make good use of our valuable advice, and don't forget that we advocacy is your first ally for a controlled internal communication 😉
Once again, the team wishes you all the best for this new year, 2022 let's do it!

Radically change the way you communicate internally and survey your teams regularly and easily.
Request a demo
Radically change the way you communicate internally and survey your teams regularly and easily.
Request a demo